Dynasafe contributes to public safety at All-Star Game
July 19, 2021
The DynaSEALR Q5 was made to contain small IEDs and pipe bomb threats while being capable to navigate inside a stadium building, ideal for public safety. That's why it was perfect to have on standby at the 2021 All-Star Game for Denver Police, Denver Bomb Squad, and security teams.
The Major League Baseball All-Star Game takes place halfway through baseball season every year. Major League Baseball brings together all-stars from the American League and the National League for a game. This year, the game was held at Coors Field in Denver, Colorado, home of the National League's Colorado Rockies.
Since the 2020 All-Star game was canceled due to the COVID-19 pandemic, everyone knew this would be a high-traffic event for the town of Denver. It would be necessary to increase security measures. For this application, we put the DynaSEALR Q5 on a wheeled cart for simple mobility. Security teams were able to keep the vessel in a storage room, where it would be easily accessible in the case of a threat. All it would take is two people to push it out of the room and bring it close to the point of threat, minimizing the danger associated with the transport of a potentially hazardous device.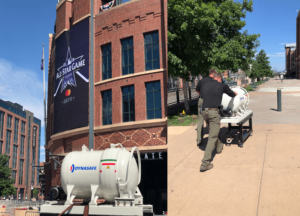 In an attempt to get bomb squads, police departments, and public safety officers everything that they need to make the world a safer place, Dynsafe now offers payment plans for equipment in the form of Containment as a Service. Contact Us to learn more and find out if this is the right solution for your security needs.